Our very first topic in this blog is going to be about split system air conditioning units; the features, cost, brands and why we like split systems – we're hoping to cover what most people look for when deciding to buy home air conditioners. We will also point you in the direction of some well written articles on the same subject as there's no point repeating the same information.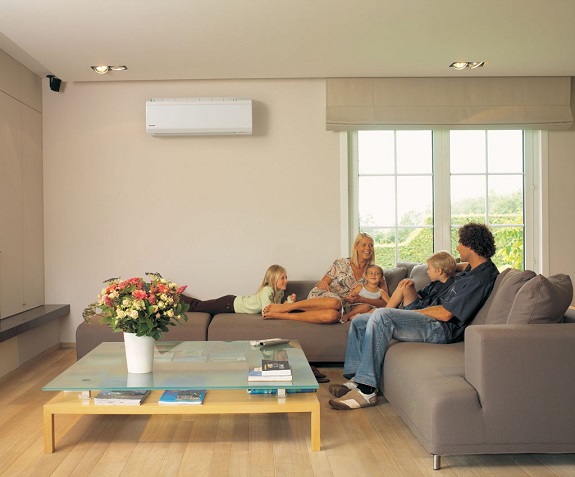 By no means we claim that ductless a/c units are suitable for all folks, so it happens that we find these to be best bang for your buck – if you can cool your room on a hot summer day and heat it during winter for $1,500 to $2,000 fully installed, that's got to be a good deal in anyone's book. This what we found split systems to cost during our research and ultimately a purchase for our house.
Quick run-down of what the basic air conditioning types are:
portable or window air conditioners
split system or ductless air cons and
ducted air conditioning
Ductless air conditioners

These units are a much better solution to portable ones as they are completely out of the way being affixed on the upper end of the wall close to the ceiling. They're also much more affordable than their larger cousins namely ducted home air conditioners. They sit right in the middle performance wise and price wise and that's where we like it.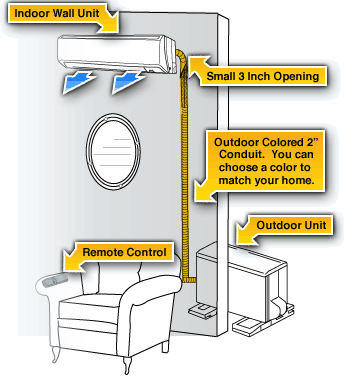 The actual unit consists of an outdoor part that looks like a meter or so tall box with a fan inside that is connected with cables and pipes to the indoor unit through the external wall. See the picture above. Remote control is used to adjust the temperature and also the fan speed as well as if you want the fins to be swaying up and down or not.
The cheapest models will only have one cycle where the unit is only able to blow cold air and these models would be best and economical solution for warmer climate places such is Australia for example. Should you want to have a complete solution and be able to use your a/c in place of a heater, it's best to spend only a little more and buy a reverse cycle air conditioner – both heating and cooling cycles available.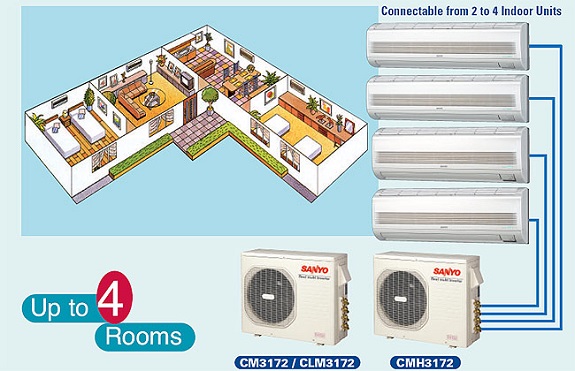 If you would like to have a more comprehensive heating and cooling solution for your home without going the way of ducted, you can always look into having a multiple indoor unit split systems that may have 1 or more external units depending on their power rating in kilowatts kW. One example is the picture above.
All new units use inverter technology where the power is not switched on and off when the desired temperature is achieved, rather the unit constantly changes the rate at which the fan and compressor are working. the benefit of this is power saving and also the room temperature swings are more subtle which creates more comfortable feeling for home occupants. Watch the video below to find out how inverter technology works, it's got a nice animated demonstration of it from Panasonic air conditioners Australia.

As far as the main brands that you want to consider; the top three brands seem to be Daikin, Fujitsu and LG air conditioners. Breaking into the market are Samsung and Mitsubishi air con manufacturers.
We found that you can go to one of the larger retailers in Australia such as Bing Lee or Harvey Norman or to buy it from people who sell and fully install all air conditioning units you're better off going to one of the local air conditioning companies; they specialise, live and breath a/c – so our choice was Frost air out in Sydney's north-west however they seem to service the whole metropolitan Sydney area.
Choice online magazine has a very good split system review. This is their opening statement and we must say it's impressive – they compare 160 different units!
We compare more than 160 reverse-cycle split-system inverter air conditioners, with capacities from 2kW to 9.4kW.

Our review reveals which air conditioners have the best:
cooling and heating performance

airflow performance

brand reliability